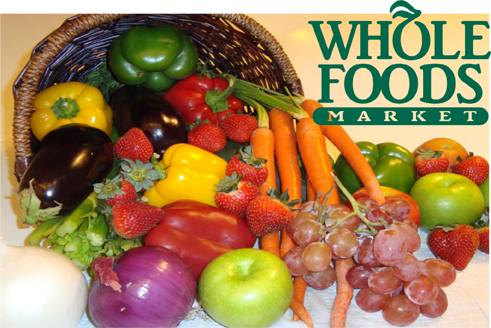 I had decided a while back that I would keep the birthday weekend going strong for an extra day and would take today off. Then I had the opportunity pop up with Mom's Meet that would let me go on a tour of Whole Foods! Well, heck yes! Count me in! (Especially when I heard it would have budget friendly tips!!!) This awesome adventure was made possible by Mom's Meet, Lundberg Family Farms, Plum Organics, Happy Family, KIWI Magazine, Applegate and of course Whole Foods! Also, a special thanks to Jill for educating us on all of this awesomeness! #MMStoreTours
While I learned ALOT one of the most important things I learned was that it really is possible to shop at Whole Foods on a budget! I know, I know......I call it "Whole Paycheck" at times. I think if you go in just planning to get what you need, check out the sales, sign up for store and brand newsletters is really is possible to get some good healthy grub and not kill your checkbook.
First, when you're going in....make sure you check out the weekly sale board. There is also a flyer there with coupons inside. LOOK through it and use what you can!
Make sure you're signed up with all of your favorite brands so you can get coupons from them either via email or snail mail. A lot of companies will send coupons out a few times a year.
If you're in a certain department and say for example, you want a specialty cheese but not a HUGE chunk of it.....did you know you can ask them to cut it down? I didn't know that, but I do now!
Here are some of the amazing things I learned today (that I totally didn't know).....
All of the produce at Whole Foods is Organic. This not only makes it easy for you to shop a lot of locally grown produce, but it also prevents any cross contamination from happening (from organics being stored or transported with non-organics)
All of their stores have random testing done and they all have to maintain that organic standard....otherwise non of them can claim to be organic.
Our local Whole Foods gets a seafood delivery DAILY. Now that's what I call fresh!
They work with the Monterey Bay Aquarium researchers to make sure none of the fresh seafood items they sell are on an endangered list.
All of the ground meat is ground IN STORE! They can tell you when it was ground what it was ground from and how long it's been in the store.
All of the day old bread and produce items that are not up to the high standards get donated to Placer Country Food Bank! They stop by daily to pick up items. That's some serious hunger prevention. A lot of stores collect money for Food Banks but Whole Foods is seriously walking the walk!
Also, make sure you check out the bulk areas! You can get seasoning, make your own nut butter get honey olive oils and even shampoo/soap! These are all available in a variety of types so have fun with it! And don't forget their gorgeous flowers!
Whole Foods is all about sustainability. They'll tell you right off....shop the edge of the store. The produce section is your best friend. They have a call our on most of the locally grown items so not only are you getting organic produce, you're helping local growers as well. And speaking of local grower, Whole Foods isn't some big faceless corporation. They send their employees out to meet the growers. They seriously KNOW where they get their products!
Now, maybe the most important piece of information I learned......THEY HAVE A CONCIERGE!!!!! Do you know what that means? If you have no idea where to start when it comes to shopping healthy, ask the concierge. Have a fancy dinner party or even to attend and you don't know what to get? Ask the concierge. AND THE MOST LIFE CHANGING THING......if you can't make it in to go shopping....just call the concierge and he will take care of it for you and you can just go in and pick things up. I have his card for our local store. That was a no brainer! I think I found my new best friend!

My amazing goodies from our event sponsors!!!