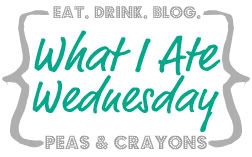 Hello and happy Wednesday! It's time to link up with Peas & Crayons for another inspiring edition of "What I Ate Wednesday! "
I'm slowly getting better at remembering to take pics, now I just need to take BETTER pics!
One thing I did this week was celebrate Cinco de Mayo and the 9 year anniversary of me going on bed rest (when I was preggers with little dude)! I know, silly right? It was so scary at the time so it's nice to put a fun spin on it now. So I went to Chipotle! I actually ordered online, as always..... Because it makes it easier and makes me feel like a rockstar when I walk in and my food is ready and paid for. It was delicious too! I get the chicken salad. You can't go wrong with the chicken salad.
The rest of the week wasn't too out of the ordinary. A mystery shop/salad at Habit, Mamma Chia while driving and some Zola Espresso coconut water to give me the healthy rejuvenation I needed yesterday afternoon.
I did try something new....Thrive ice cream. I got the salted caramel kind. With its claims of high protein, fiber, etc I expected it to taste like frozen cardboard. I was totally wrong. It was delicious! It comes with 2 containers in the pack. I'm not sure what happened but they were both gone within 24 hours.
I also tried a really good (and different) Kind bar. It had peppers and chocolate in it but was soooo good. I didn't know what to expect but I was pleasantly surprised. (Check out my Bulu Box post for more info on that bar) I'm also in the midst of trying the Vega Sport Recovery Accelerator (the stuff in the pic of my shower). I was multi tasking.... showering and drinking my drink. I'll be posting a full product review on that next week and giving away some samples soon!
I've got one week until the super birthday extravaganza happens for little dude.....so I'm in roadtrip prep mode. I'm still going to work on taking better pics for next week! Can't wait to see what everyone else had this week!
Stay awesome, friends!